2024 Hyundai Kona
As the 2024 Hyundai Kona enters its second generation, it brings multiple improvements while also catering to a wide range of needs with its diverse engine lineup. Notably, there's an all-electric model that can travel up to 418 kilometres on a single charge. Beyond just the electric option, the Kona also offers two other proven engines, including a 1.6-litre turbo powering the spirited N Line variant, catering to various preferences within the compact SUV market. With its updated design, the new Kona offers more space inside, a sleek and contemporary look outside, and is packed with the latest technologies, making it the most advanced and safest Kona to date.
Eye-catching Design
The 2024 Hyundai Kona is striking with its one-of-a-kind design that's certain to catch the eye.
Exterior
The 2024 Hyundai Kona presents a distinctive exterior that's bound to turn heads. Initially designed with its electric version in mind, the Kona exudes a contemporary and refined appearance. This iteration of the Kona is both longer and wider than its predecessors, measuring 4,350 mm in length and with a wheelbase extended by 60 mm. Its increased width of 1,825 mm not only accentuates its commanding presence on the road but also translates to a more spacious cabin.
Hyundai's commitment to blending functionality with aesthetics is evident in the 2024 Kona Electric's commendable drag coefficient of 0.27. This aerodynamic prowess is reflected in the vehicle's sleek front and rear design. Elegant chrome accents, stretching from the belt line to the rear spoiler, along with the central high-mounted stop lamp, amplify the Kona's confident stance.
For the 2024 Electric variant, Hyundai introduces cutting-edge lighting designs, elevating its visual appeal. Features like the Pixelated Seamless Horizon Lamp and Pixel motifs add a fresh, modern flair. These unique lighting elements, paired with a diverse palette of exterior colors, ensure the Kona distinguishes itself in a crowd. Hyundai has thoughtfully crafted the Kona's exterior to stand out and redefine expectations when it comes to what a compact SUV can look like.
Interior
With the 2024 Kona, Hyundai has taken a fresh approach to interior space in compact SUVs. Emphasizing an EV-focused design, they've crafted the Kona to meet diverse user requirements while prioritizing cabin spaciousness. A standout feature is the dashboard, which elegantly incorporates a floating horizontal C-Pad, seamlessly integrating dual 12.3-inch panoramic displays for both entertainment and driver information. This contemporary layout simplifies interactions with the vehicle's myriad features.
The Kona's interior design emphasizes both efficiency and user comfort. The thoughtful relocation of the shift-by-wire gear selector enhances console accessibility, leading to a more intuitive driving experience and a roomier central console. Practical touches, like the rotating cup holder, underscore the console's versatility. The redesigned front seats offer generous space for those seated behind, and the Curveless Bench Seat in the back ensures everyone travels in comfort. For those needing extra storage, the rear seats fold down, revealing a spacious 723-litre cargo area that can be expanded to an impressive 1803 litres.
Digital Key
The Hyundai Kona integrates cutting-edge technology to enhance the driving and ownership experience. A standout feature is the Digital Key 2 system, which allows owners to use their NFC-enabled smartphones or smartwatches to control their vehicle's access, from locking and unlocking to starting the engine. What's more, this system offers the flexibility to share vehicle access with loved ones, even from a distance. For added safety and convenience, the Surround View Monitor offers multiple viewing angles, making parking and tight-spot navigation a breeze. This system is especially handy for detecting obstacles like sidewalks or getting a clearer perspective of the area in front of the Kona.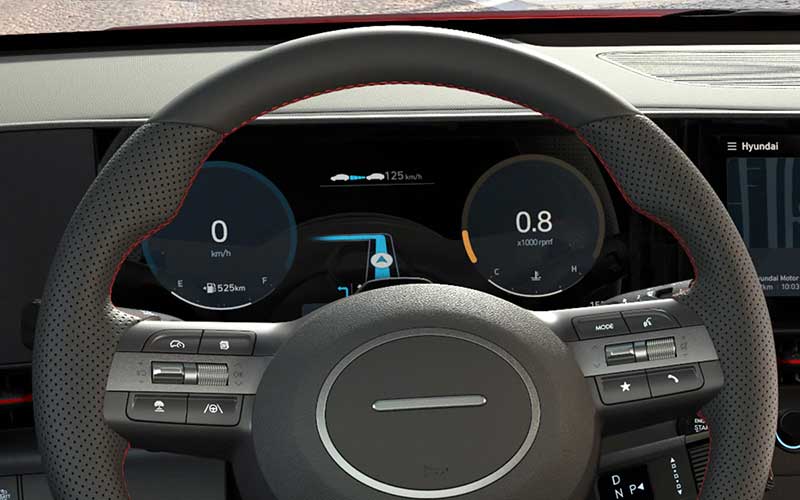 Features
For the Kona Electric, Hyundai has incorporated specialized tech features. There's a handy front trunk storage, adjustable grille shutters, and the innovative Vehicle-to-Load (V2L) function. This V2L feature is particularly useful during power outages or family camping trips, as it supports bi-directional charging. Another thoughtful addition is the i-PEDAL, which lets drivers manage acceleration and braking with just the accelerator pedal. This is paired with the Smart Regenerative System that intuitively adjusts to real-time traffic conditions, enhancing the vehicle's energy recuperation. All in all, the latest Kona is designed with a focus on safety, user comfort, and modern-day conveniences.
New Versions
Beyond its striking looks, the second-generation Kona is packed with advanced tech features. These enhancements not only make this SUV the most secure and connected Kona to date but also ensure that everyone inside feels safe and remains connected to their surroundings. In essence, the 2024 Hyundai Kona builds upon the strengths of its predecessor, bringing even more to the table.
Engine
The 2024 Hyundai Kona brings forward a harmonious mix of performance and efficiency in its powertrain offerings. For those who prefer traditional engines, there's the reliable 2.0-litre 4-cylinder Atkinson engine, which balances brisk accelerations and fuel economy, delivering 147 horsepower.
Kona N Line
For enthusiasts craving a zestier drive, the Kona N Line offers a turbocharged 1.6-litre 4-cylinder engine. This engine, boasting 195 horsepower and 195 pound-feet of torque, provides a more spirited performance compared to its predecessor.
Kona Electric
On the electric front, the 2024 Hyundai Kona Electric is equipped with a 64.8-kWh battery, promising up to 418 kilometres on a single charge.
Kona Electric Charging
Remarkably, it can recharge from 10% to 80% in a mere 43 minutes. When you press the accelerator, the electric powertrain delivers a potent 201 horsepower and 188 lb.-ft of torque, blending sustainability with consistent performance.
Frequently Asked Questions about the 2024 Hyundai Kona
The 2024 Hyundai Kona is on sale now.
The 2024 Hyundai Kona is offered in multiple versions.
Essential FWD (Front-Wheel Drive): $25,999
Essential AWD (All-Wheel Drive): $27,999
Preferred FWD (Front-Wheel Drive): $28,499
Preferred AWD (All-Wheel Drive): $30,499
Preferred AWD Trend (All-Wheel Drive): $32,499
N Line AWD (All-Wheel Drive): $35,499
N Line Ultimate AWD (All-Wheel Drive): $38,499
Pricing for the 2024 Hyundai Kona Electric has not yet been released, but expect it to be eligible for both Canadian and provincial electric vehicle rebates.