2024 Hyundai Santa Fe: Embracing More Possibilities
Introducing the 2024 Hyundai Santa Fe
Embodying the concept of "Open for More," the all-new Hyundai Santa Fe redefines daily versatility, merging urban and outdoor experiences both inside and outside the vehicle. With its extended wheelbase, passengers enjoy enhanced seating options, particularly with the addition of a new third row, coupled with the segment's most expansive interior and "terrace"-like cargo space. In simple terms, the 2024 Hyundai Santa Fe takes everything that has made the previous generation midsize SUV from Hyundai popular, and improves upon it.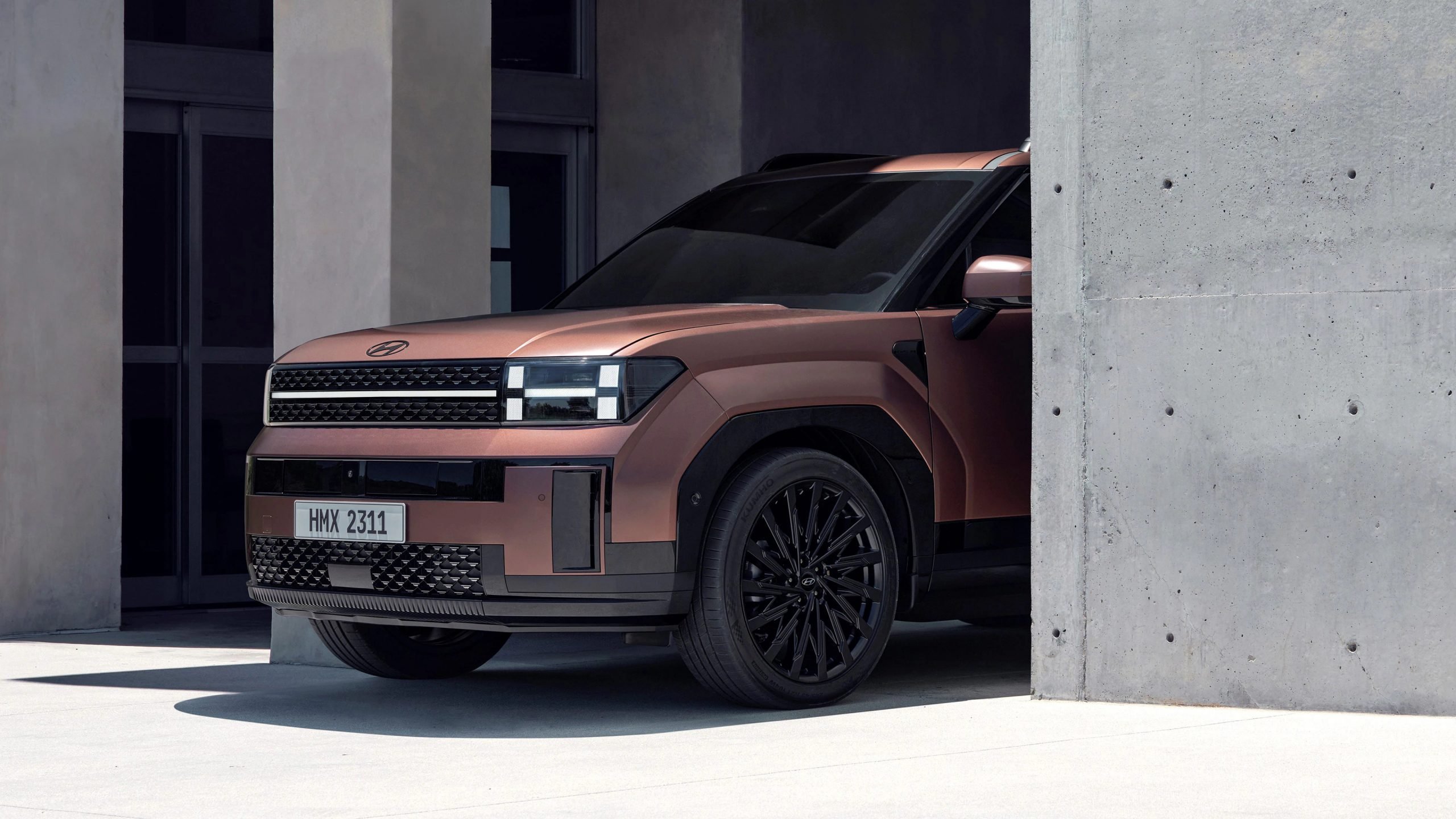 Improved in Every Way
Hyundai's latest Santa Fe iteration isn't just a successor – it's a revolutionary upgrade. Building on feedback and evolving needs, the company presents a vehicle that's superior in form, function, and finesse.
Bold Design
At first glance, the Santa Fe makes a powerful statement with its raised hood, distinctive H-shaped headlights, and well-defined wings. Taking inspiration from Hyundai's emblem, the H-shaped lights and lower front skirt convey a bold, unmistakable identity. The elongated wheelbase, clean side lines, audacious roofline, generous wheel arch space, sturdy wheel paths, shorter front overhang, and striking 21-inch wheels further enhance its regal stature.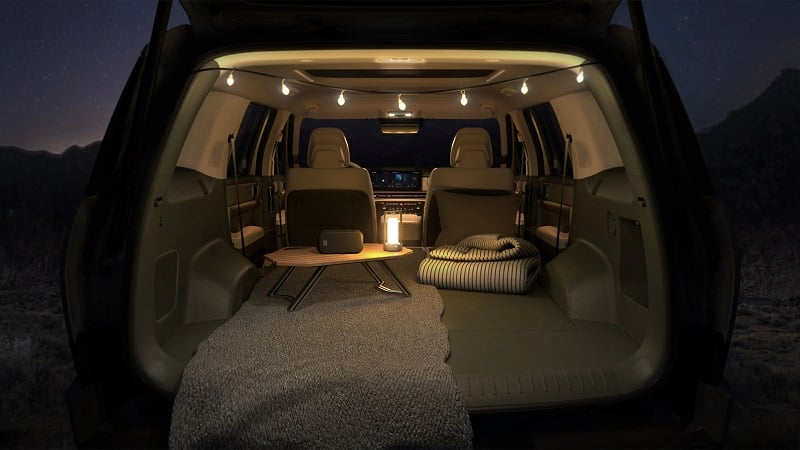 More Space
In the all-new Santa Fe, space isn't just about cargo – it's about living. Prioritizing passenger comfort, Hyundai has extended legroom for both second and third rows. Notably, the SUV boasts the segment's best third-row comfort, along with increased headroom, addressing customer feedback. Specific measurements, such as a 35 mm legroom increase in the gasoline model's second row and a 20 mm increase in the hybrid's third row, underscore this commitment to comfort.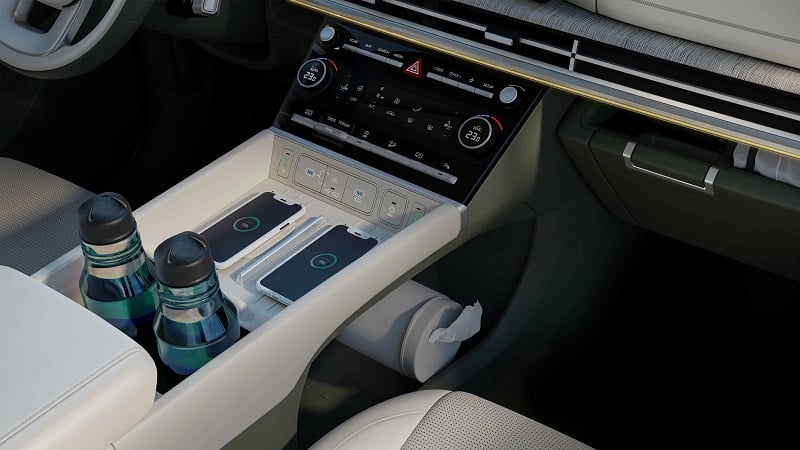 Innovations in Comfort
Embracing luxury, the front-row relaxation seat offers a near-weightless experience for occupants. In the Korean market, the driver's Ergo Motion seat employs inflatable cushions, ensuring maximum comfort and support. A 6.6-inch touchscreen temperature control simplifies climate adjustments, while the six-seater version introduces second-row electrically inclined bucket seats, ensuring backseat passengers aren't left out of the luxury experience.
Key Benefits
Remarkable Safety
Santa Fe's suite of advanced driver assistance features ensures a confident driving experience, whether commuting or on weekend getaways. From the forward collision-avoidance assistant to lane-keeping aids, it minimizes driver interventions. Moreover, the new Driver Attention Warning (DAW) and Driver Monitoring System (DMS) further elevate safety standards by monitoring driver attentiveness and vitals, respectively.
New Features
The Santa Fe doesn't skimp on conveniences. It boasts a dual high-speed wireless charging system for smartphones, a type C USB port, and an innovative UV-C sterilization tray for frequently used items like mobiles and wallets. With over-the-air updates, vehicle systems and software remain up-to-date without dealership visits. Plus, the Digital Key 2 offers remote vehicle access and control through the user's smartphone.
Practical Cargo Space
The new model offers an impressive 725L cargo opening, marking a significant 91L improvement over its predecessor.
Hit the Road
Geared for any journey, the Santa Fe guarantees a performance boost with its all-wheel drive.
Quick and Connected
Melding efficiency and technology, the Santa Fe is a beacon of contemporary driving. With its hybrid offerings, significant horsepower, and a suite of features, it's primed for the tech-savvy driver.
Hybrid Powertrain
The Santa Fe's 1.6-litre turbocharged hybrid engine promises a potent 180 horsepower and 195 lb-ft of torque, exemplifying hybrid efficiency.
281 Horsepower
For those seeking more raw power, the 2.5-litre turbocharged gasoline engine delivers an impressive 281 horsepower and 311 lb-ft of torque.
Everything You Need
With premium features like a relaxation seat with leg rest, UV-C sterilization tray, dual smartphone wireless charging system, panoramic curved screen, and more, the Santa Fe is well-equipped for any adventure.
In Conclusion
The 2024 Hyundai Santa Fe isn't just an SUV; it's an experience. Bringing together unrivaled design, space, and cutting-edge technology, it truly encapsulates Hyundai's vision for the future. Whether you're navigating city streets or embarking on wilderness adventures, the Santa Fe ensures you do it with style, comfort, and confidence. The future of driving is here – and it's more expansive than ever.