Welcome to our Service Department
Servicing your car with Crowfoot Hyundai means that you don't have to be a car expert. You can have peace of mind, knowing that our staff has the right knowledge, the right parts, and right tools to get the job done right.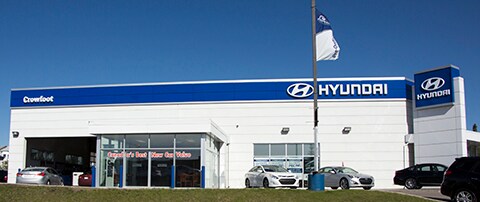 Hyundai Factory Recommended Maintenance Schedule
Our Goal at Crowfoot Hyundai is to make sure your Hyundai is properly taken care of. Before you book your appointment with us please check out below to find out what servicing your Hyundai requires.
Southern Alberta Driving Conditions:
These vehicle maintenance guides are designed to help you get the most out of your vehicle. By following this program, based on Hyundai Canada's recommended intervals, you will help ensure higher resale value, longer component life, and less down time without your vehicle.
Canada is a large country encompassing six different climatic regions, each with its own challenges and extremes. This guide has been enhanced with these climatic and regional issues in mind for Southern Alberta, and is meant to help you achieve a higher level of satisfaction with your overall ownership experience.
When you hear that your vehicle usage fits under "Severe Driving Conditions", you may think of racing. This is not the case. Severe driving conditions means:
Driving in areas using salt or other corrosive materials or in very cold weather.
Repeated short distance driving.
Driving in dusty conditions.
Driving in mountainous areas.
Driving in sandy areas.
Extensive idling.
Towing a trailer.
More than 50% of driving done in heavy traffic in temperatures over 32 °C.
At least three conditions listed above, would encompass driving conditions in southern Alberta. Knowing these facts, gives you the power to make the best choices for your vehicle.
**To make sure that you receive our reply, please add service@crowfoothyundai.com to your contacts list in your originating email account to avoid the message from possibly being marked as spam.